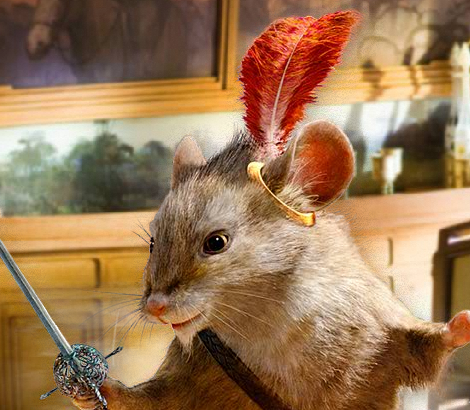 Here is a brief medical update for those who have so faithfully prayed for our family over the last six or seven weeks.
Since March 2nd, the doctors have been hard at work trying to determine the cause of Cullen's stroke. This means lots of needles, blood, and tests, which is very scary for a kid who just turned four. But Cullen has been exceptionally brave for such a little guy, just like Reepicheep, his favorite character from Narnia.
Yesterday, the nurse at our pediatrician's office called us with some test results. The main discovery is that Cullen is anemic. I am hopeful that this might be the missing piece of the puzzle for which we have been searching. Last night and early this morning, I read a few medical journals, and there is some evidence in the medical community to suggest a link between iron-deficiency anemia (IDA) and ischemic strokes, the type of stroke Cullen had. A 2007 study, published in Pediatrics, argues, "Children with iron-deficiency anemia accounted for more than half of all stroke cases in children without an underlying medical illness, which suggests that iron-deficiency anemia is a significant risk factor for stroke in otherwise healthy young children." A 2011 study in Archives of Disease in Childhood further explores the association between IDA and ischemic strokes in children. I plan to discuss all of this with our neurologist ​when we meet with him on May 8th. He will know if the theory holds water.
The potential good news is that, if the neurologist thinks that IDA could have caused Cullen's stroke, then it might be the case that we can greatly decrease the chance of future strokes simply by keeping Cullen on iron supplements. Here's hoping (and praying).